Metal Services Outlook for 2023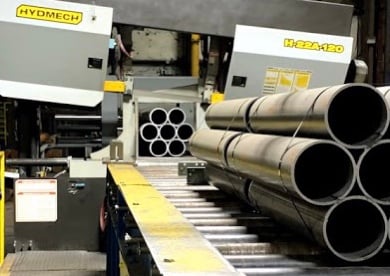 After several years of struggle related to the COVID pandemic and the resulting supply chain shortage, which continues to plague segments of the economy, the outlook for metal services in the coming year is clearer than it has been. There are still some challenges facing the industry, however many of them can be overcome with proper planning and preparation.
Companies need to be prepared for anything and be willing to pivot if needed. Many companies have found success by diversifying their services portfolio, offering different kinds of services such as laser cutting, polishing, and metal cutting.
This trend looks to continue in 2023 as more and more companies turn to these kinds of specialized services to stay competitive in a challenging market. That said, it's also important that these businesses remain mindful of their customer's needs and continue providing quality service at an affordable cost. By doing so, they can build relationships with customers that will help them thrive going forward.
Where the Steel Industry Stands
Structural steel pricing showed signs of leveling off in April after steadily increasing since January. Structural tubing continues to be a competitive marketplace, and mechanical tubing prices remain elevated.
Despite these challenges, metal service centers are finding ways to pivot and improve their business. From investing in modern machinery that allows for quicker and more efficient production to exploring new marketing tactics, the steel industry is changing in order to survive.
Raw Materials
For the last week of April, US raw steel production rose 0.7%, with US utilization at 75% - a marked decrease from 81.9% for the same period last year. Despite this decrease, however, the US is continuing to produce steel at a faster rate than other countries.
China is currently the largest producer of raw steel in the world, producing 928 million metric tons in 2018 - more than double that of the United States output. Other major producers include Japan, India, and Russia.
In addition to the US, countries such as Germany, India, and Brazil have experienced an increase in their steel production. Germany was responsible for producing 43 million metric tons of raw steel in 2018 - significantly more than the 2017 figures. Similarly, India's output rose by 3% from 2018 to 2019, with a total output of 101 million metric tons.
Emerging Markets and Demand: Urbanization and Industrialization
The growing steel demand is being driven by urbanization and industrialization, particularly in developing economies. Urbanization is expected to lead to an increased need for infrastructure, such as bridges and highways, which will require large amounts of steel. Industrialization has also been a major factor driving the increased demand for steel, as developing countries look to modernize their manufacturing processes.
This has resulted in a rise in construction projects related to factories and industrial plants, further driving up the steel demand. Ultimately, the combination of these two factors has caused a significant increase in the global demand for steel over the past few years.
This increased demand from emerging markets (especially India and China) is likely to have a significant impact on the global steel industry in the coming years.
Reshoring
With increasing levels of globalization, global companies are beginning to understand the importance of localizing their production processes. This too will cause an increase in demand for steel as companies look to build local manufacturing facilities to access local markets more efficiently.
Reshoring and foreign direct investment job announcements have increased by 53%, according to the Reshoring Initiative 2022 Data Report. New York saw the highest rate of job announcements at 12%, which was also a significant increase from last year's report when the state was ranked 10th.
Some potential sticking points for reshoring efforts include:
Ongoing workforce shortage
Lack of skilled labor
High inflation rate
Lack of automation investments
Increased industrial capabilities in other countries
State Line's Business Outlook for 2023 and Beyond
The 2023 outlook for State Line is positive, as we are on track to achieve numbers similar to last year: 2022 was a very good year. So far, we ended the first quarter of 2023 with a record month. April was strong but a slight drop from March, and May is projected to be strong with several new projects and increased business from some long-standing relationships as well.
We are exceeding expectations with on-time delivery and take pride in our ability to complete jobs with exact precision. This saves time by negating the need to redo orders.
The value-added services side of the business is strong. We are a small company with dedicated employees who do a good job. We have some people on staff who have 30 years of experience with State Line, some with 25. Even the younger employees, however, are well-trained and stick around, gaining experience and adding value to the company.
Our tonnage has increased dramatically. That, coupled with a lot of sales dollars, is the perfect balance. Even with this increase, however, we continue to exceed expectations with on-time delivery.
State Line takes the time to go look for client requests, rather than shy away if it isn't already in the inventory. This is a service customers don't receive from some of the bigger companies. We also strive to provide consistent pricing, which means we might be high one day and low the next. We prefer to remain consistent with our customers.
We continue to look into new machinery for the shop. We base that search on the work we receive. If we get the work, we want to bring in the tools to get the job done and continue to improve our efficiency.
2023 Outlook Positive for Metal Services
2023 should be a great year for metal services as State Line continues to modernize its operations with new machinery and dedicated employees. With an ability to complete jobs with exact precision, State Line is the perfect partner for any metal services project. Customers can also expect consistent pricing from State Line, allowing them to budget their projects with confidence. With all of these factors in play, 2023 looks like a very positive year for metal services and State Line will be there every step of the way.
State Line Can Help with Metal Service Needs
Metal services can be an unexpected necessity. The services may also be something you typically tackle yourself, but this particular project needs more hands. Before you type into the search bar for "metal services near me," read more about State Line's Value-Added Services: